This high-class studio is for advanced pianists. The room is cosy and has a slight reverb. The piano is an authentic Bechstein grand designed and built in Berlin.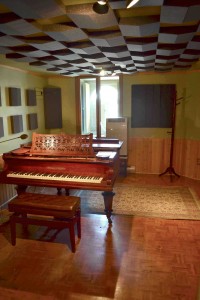 This studio is ideal for :
•solo piano practice
•piano and singing or piano and instrument rehearsal
•music lessons
Some caracteristics :
•C. Bechstein 6'9" grand piano (206 cm)
•200 square foot room size
•soundproof and slight reverb
•wood floor and wall paneling
•air conditioning
•3 musicians maximum
Rates (1 or 2 musicians):
Regular: 14.25$/hour
10-hour package: 115$
Monthly rental: 11.50$/hour
Monthly rental 5h. or more: 10.50$/hour
-2$ per hour extra is asked for a third person/musician
-Recordings and video can be made in this studio. Please contact us for rates and conditions.
-Taxes included in all rates.
What's a monthly rental, what's a 10-hour package, how do I book? All the information here.