BOOKING
For any rehearsal studio reservation, information request or a visit of our studios, you can call us or use the contact form below the weekly schedule.
By phone: 514-842-6573
Please visit our Contact section for the map directions.
OPENING HOURS (summer schedule)

•Monday to Friday from 12am to 8pm *
•Saturday from 11 am to 6pm
*with some exceptions, see schedule below
Any visit or studio rental require an appointment. Please don't show up without a reservation! A reservation must be made at least 2 hours before using a studio.

AVAILABILITIES
For helping you making a studio reservation, you can look at the schedule below. The schedule is updated every sunday for the week to go.
Schedule of Épilogue's rehearsal studios for the week of July 24th

Exceptionally closed on Saturday 22nd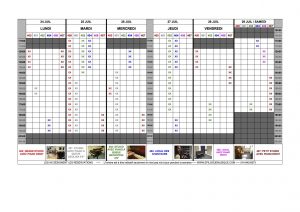 CONTACT FORM FOR INFORMATION OR RESERVATION

If you wish to receive the weekly schedule by email, simply let us know in your message by using the contact form.
HOW reservations work
•The regular rental needs at least a reservation of one hour. 1:30, 2:30, etc rehearsals are possible.  Regular rates apply. Payment must be done before the rental begins.  No-fee cancellation or change of reservation are possible if Épilogue musique is told two days prior the reservation unless full payment of reservation is asked.
•The 10-hour package is a way of getting 10 hours of practice at a discount rate.  The payment is asked before the first room rental begins. All 10 hours must be used within 3 months unless extra fees could be asked for using the remaining hours. Reservations are done the same way as the regular reservation and the cancellation policy is also the same.
•The monthly rental means to rent at least one hour each week at the same hour and day for a full month. For example: all Mondays of October from 1 pm to 2 pm in room 408. At the last room rental of the month (last Monday of October) the musician can decide then to renew (anf if it's the case, to pay all hours of the following month). Cancellations are non-refundable and changes of reservations are not possible with the monthly rental. The main advantage of the monthly rental is that the musician gets a priority of booking of his hours.
GENERAL RULES
•Any studio rental or visit needs an appointment by phone or email
•A musician who is late can't add lost time at the end of the rental period.
•Only cash payments are accepted for regular reservations. Cash payments and cheques are accepted for 10 hour package and monthly rentals. It is required to pay the rental before it starts.
•A deposit can be required for reservation of several hours.
•No credit or late payments are accepted. Studio rentals are not refundable once paid.
•Percussions are not allowed in our rehearsal studios.