BOOKING
For any rehearsal studio reservation, information request or a visit of our studios, you can call us or use the contact form below the weekly schedule.
By phone: 514-842-6573
—-
AVAILABILITIES

Schedule of Épilogue's rehearsal studios for this week

Schedule for week of April 23rd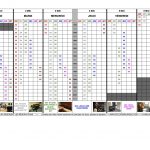 Please do not show up without making an appointment with us (at least an hour before using a studio).
—-
CONTACT FORM FOR INFORMATION OR RESERVATION

—-
PAYMENT

•    For regular rental of one hour, only cash payments are accepted. For reservations of 1:30 or more, cash and e-Transfer (by Interac) are accepted (must be done on site).
•    For 10-hour packages or recurring bookings, cash payments, cheques and e-Transfer (by Interac) are accepted (must be done on site).
•    Payment of any studio rental has to be made at the beginning not at the end.
•    No late payment or credit are accepted. No refund once the rental is paid.
•    Épilogue musique can ask for a deposit to be paid in advance if an important amount of hours is reserved (non-refundable but can be credited to another booking if there is cancellation).
—-
HOW reservations work
•IN GENERAL:
Any studio rental or visit needs an appointment by phone or by contact form/email.
Studio rentals beginning or finishing at the half-hour are possible with some exceptions.
Example: 5:30 à 6:30.
Always possible, once you're there, to add practice time if the studio if free.
•THE REGULAR RENTAL:
Reservation of one hour minimum. 1:30, 2:30, etc rehearsals are possible.  Regular rates apply. No-fee cancellation or changes to the reservation are possible if Épilogue musique is told two days prior the reservation otherwise full payment of reservation is asked.
8:00PM to 9:00PM is not available for a 1 hour regular rental. To have the 8 to 9pm time slot, the musician must reserve 2 hours; 7:00 to 9:00 or 6:30 to 8:30.
•10-HOUR PACKAGE:
The 10-hour package is a way of getting 10 hours of practice at a discount rate.  The payment is asked before the first room rental begins. All 10 hours must be used within 3 months unless extra fees could be asked for using the remaining hours. Reservations are done the same way as the regular reservation and the cancellation policy is also the same.
•RECURRING BOOKING:
The recurring booking means to rent at least one hour each week at the same hour and day for a full month.
For example: all Mondays of October from 1 pm to 2 pm in room 408.
No cancellation or change to the reservation can be made with this room booking.
The main advantage of the recurring booking is that the musician or music teacher gets a priority of booking on his practice room and hours.
GENERAL RULES
•It is not possible to book a room by text messages, only by phone and contact form/email.
•Percussions are not allowed in our rehearsal studios.
•No membership is needed to book a room.
•No credit or late payments are accepted. Studio rentals are not refundable once paid.