Welcome to Épilogue musique! We are a music center that is well established on St-Denis street in the heart of the vibrant Quartier Latin of Montreal just next to the Berri-UQAM metro station.
Our rehearsal studios are just the right place for musicians and music teachers who can practice, compose, have or give a music lesson.  Each room has it's own acoustic piano and welcomes musicians of all caliber for solo rehearsals, bands (without percussion)/ensembles needing sound equipment or not.
Choose your studio!
400: large rehearsal room with upright piano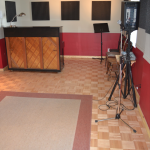 401: Aeolian 5'9" grand piano studio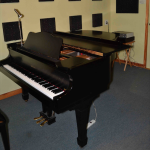 402: Bechstein 6'9" grand piano studio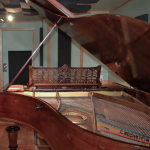 404: practice room for singers, guitar and instrument players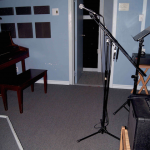 408: practice room for pianist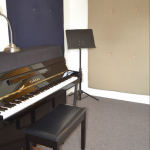 and our new rehearsal room available in evening : 407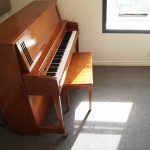 —————————
Our soundproof music studios suit many needs. Musicians can use them for practicing acoustic instruments such as piano, guitar, violin, brass or wind instruments. For singers, our rooms give them the opportunity to sing with amplifiers or not, without thinking about disturbing anyone. Our large studio 400 is great for choirs, show rehearsals and music auditions. In each studio, music teachers can give private lessons and a comfortable waiting room is there to welcome music students and their parents. And all of our music rooms have from now on internet access.
Since a good looking and soundproof music room is hard to find, we do welcome musicians who have particular projects such as filming a video or a semi-pro voice or piano recording.
We're proud of our pianos and that's why we keep them fine-tuned and regulated all year long. More advanced pianists with high performance expectations will be able to work any repertoire on our grand pianos. Thus, piano is our specialty which has contributed, since 2002, to build Épilogue's solid reputation of quality services.
—————-
GENERAL RULES
•Any studio rental or visit needs an appointment by phone or email (no reservations by text messages).
•Our practice rooms can be rented by the hour only (1h minimum then 1:30, 2:00, 2:30, etc.) We don't have full access studios offered as monthly rentals.
•No membership is needed to book a room.
•Percussions are not allowed in our rehearsal studios.
•No credit or late payments are accepted. Studio rentals are not refundable once paid.
To know how to reserve a studio, information on payments and schedule: clic here)