This small music room is simply a great place to practise, learn or teach piano.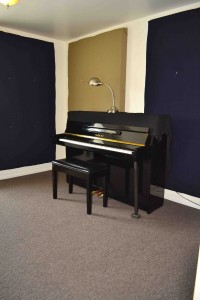 This studio is ideal for :
•    solo piano practice
•    piano lesson
•    singing and acoustic instruments practice
Some caracteristics :
•    Yamaha C109 upright piano
•    150 square foot room size
•    soundproofing
•    air conditioning
•    2 musicians maximum
Rates (1 or 2 musicians):
Regular reservation: 12.25$/hour
10-hour package: 95$
Monthly rental: 9.50$/hour
Monthly rental, 5h. per week: 8.50$/hour
-Taxes included in all rates.
-The 10-hour package gives you also access to room 404 and 407.
What's a monthly rental, what's a 10-hour package, how do I book? All the information here.